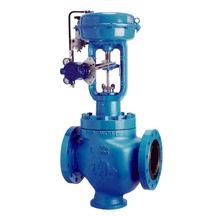 Key specifications
Size: 1/20″ to 20″
Pressure rating: JIS 10 to 63K, JPI 150 to 2500, ANSI 150 to 2500
Temperature range: −196 to 566°C
Materials: Carbon steel, Cr-Mo steel, stainless steel, etc.
Actuators: Air diaphragm motor, piston cylinder
Accessories: Positioner, limit switch, solenoid valve, etc.
For more details, refer to the specification sheet of each model number.