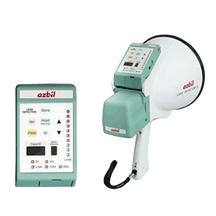 Leak Detector II, 
a PlantWalker Series Portable Operations Support Tool
It is well known that ultrasonic waves are generated when gas or liquid is discharged at a certain level of speed, or when bearings are damaged or lack grease. Leak Detector II detects these ultrasonic waves and can be used to find air leakage from pipes, gas leakage from equipment, deterioration of bearings in rotating machinery, etc.
Leak Detector II uses a parabolic sound collector for highly improved sensitivity and directivity. It can be used in a broad range of fields as a tool for saving energy, preserving the environment, and improving safety.
Detects 40 kHz ultrasonic waves generated in particular by air leakage, and displays them in a 10-step bar graph accompanied by numbers and sound.
Incorporates a parabolic sound collector, ultrasonic sensor, and indication/operation panel. Easy to use simple button operation.
Sensitive to the ultrasonic frequency band where ultrasonic waves are generated by air leakage or by machine parts rotating on a bearing or around an axis.
Directional parabolic sound collector and laser pointer (optional) indicate direction of ultrasonic wave source.
The ultrasonic wave source can be more accurately located by separating the parabolic unit and sensor unit from the operation/indication section.
Makes the amount of leakage easy to see (ultrasonic wave intensity is converted into quantity of leakage).